Holiday Decoration giant pillar stick candles
Candle Description
Christmas White Candle for Diwali Diya Design have different colors , white , red ,yellow ,green and so on . This kind of candles provide happy decoration effect , ideal for home decorations , party decorations , birthdays and bar use . It is environment -friendly and romantic.We produce christmas white candles for years. White candles have various size, weight, package and colors. We assure the good quality, fast shipment and best price for long cooperation.
White Candle,Stick Candle ,Tealight Candle ,Fluted Candle etc.
Holiday decoration giant pillar stick candles, It's type is pillar stick, can be used holiday decoration. It belongs to fast-moving consumer goods, and Africa people mostly need this kind of candle, the requirement is very big.
Common Candle Product Detail: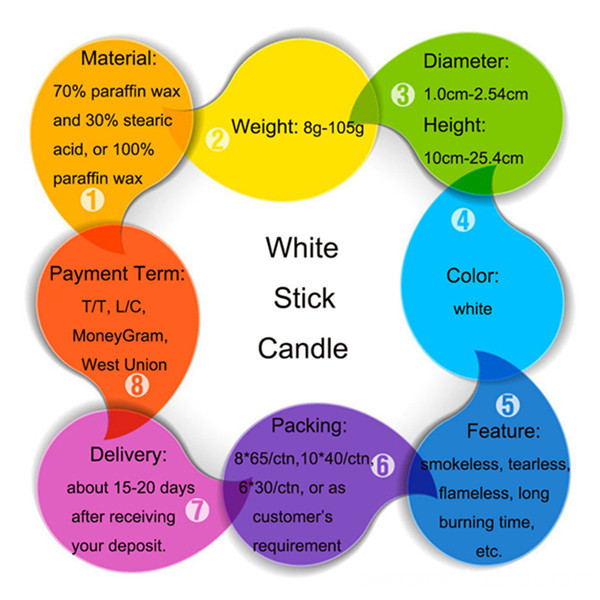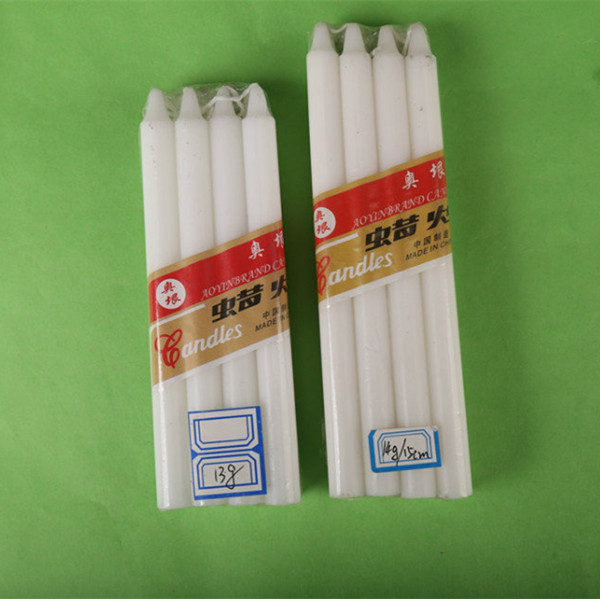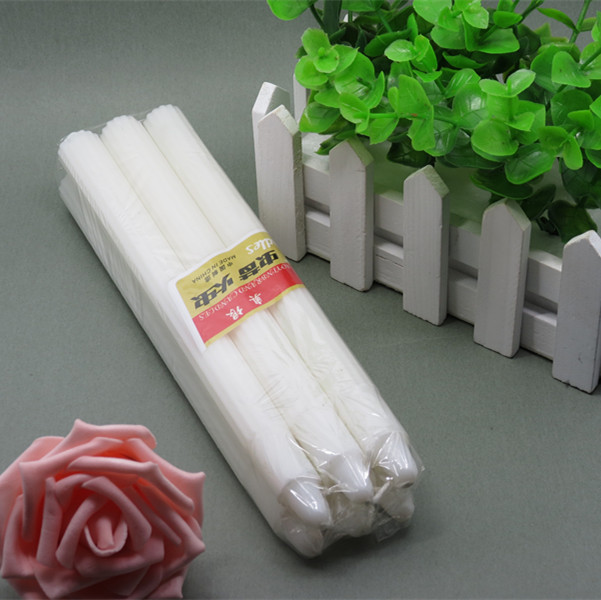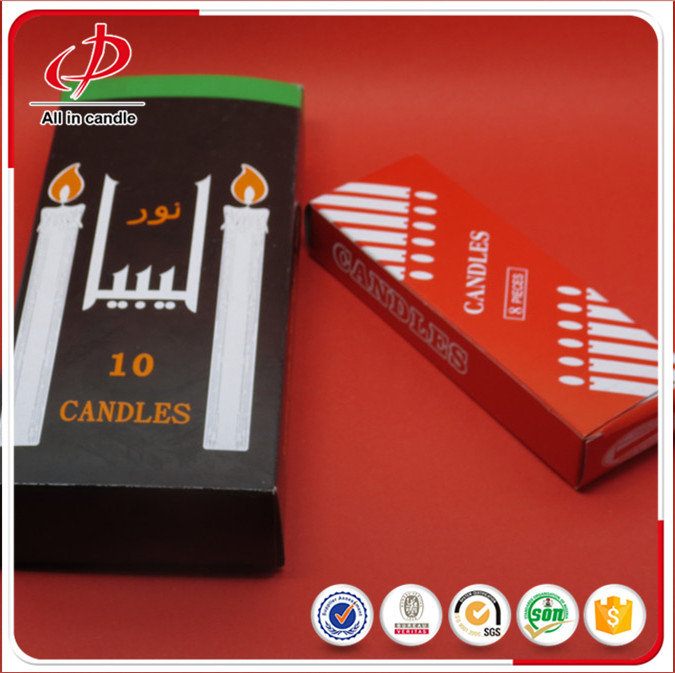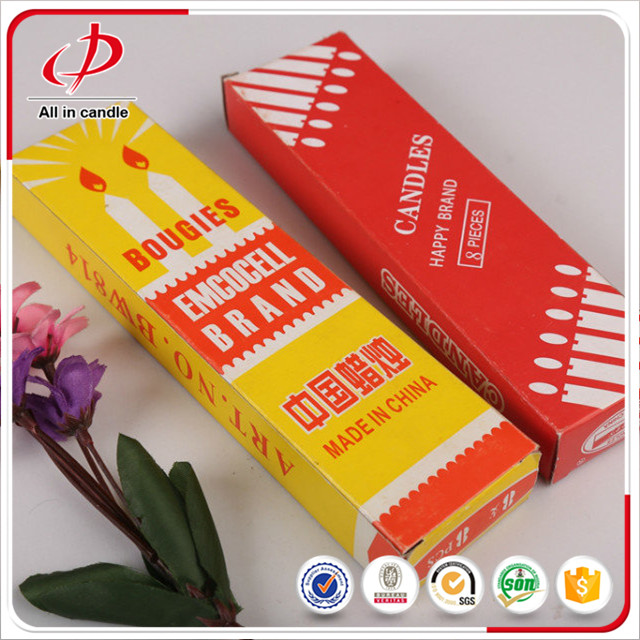 Candle Sizes:
| | | | | |
| --- | --- | --- | --- | --- |
| Weight/pc(g) | Diameter(cm) | Length(cm) | Packing(pcs/ctn) | Burning time(hours) |
| 10g | 1.2cm | 10.7cm | 10pcs*100packs | 2hours |
| 20g | 1.4cm | 16.1cm | 8pcs*65packs | 3hours |
| 22g | 1.33cm | 20.3cm | 8pcs*65packs | 3hours |
| 23g | 1.4cm | 18.6cm | 8pcs*65packs | 3.5hours |
| 25g | 1.4cm | 20.3cm | 8pcs*65packs | 4hours |
| 28g | 1.5cm | 20.3cm | 8pcs*65packs | 4hours |
| 30g | 1.55cm | 20.3cm | 8pcs*65packs | 4.5hours |
| 35g | 1.7cm | 20.3cm | 10pcs*40packs | 5hours |
| 40g | 1.85cm | 19cm | 8pcs*30packs | 6hours |
| 45g | 1.9cm | 20.3cm | 6/8pcs*40packs | 7.5hours |
| 50g | 2.0cm | 20.3cm | 6pcs*50packs | 7.5hours |
| 55g | 2.0cm | 22.4cm | 6pcs*50packs | 8hours |
| 60g | 2.1cm | 23.8cm | 6pcs*50packs | 9hours |
| 75g | 2.2cm | 24cm | 6pcs*40packs | 11hours |
| 80g | 2.54cm | 20.32cm | 6pcs*30packs | 12hours |
| 85g | 2.54cm | 21.5cm | 6pcs*30packs | 12hours |
| 90g | 2.4cm | 23cm | 6pcs*30packs | 12hours |
| 95g | 2.4cm | 25cm | 6pcs*30packs | 13hours |
| 100g | 2.54cm | 25.4cm | 6pcs*30packs | 14hours |
White candle with Shrink paper Packing and shipping: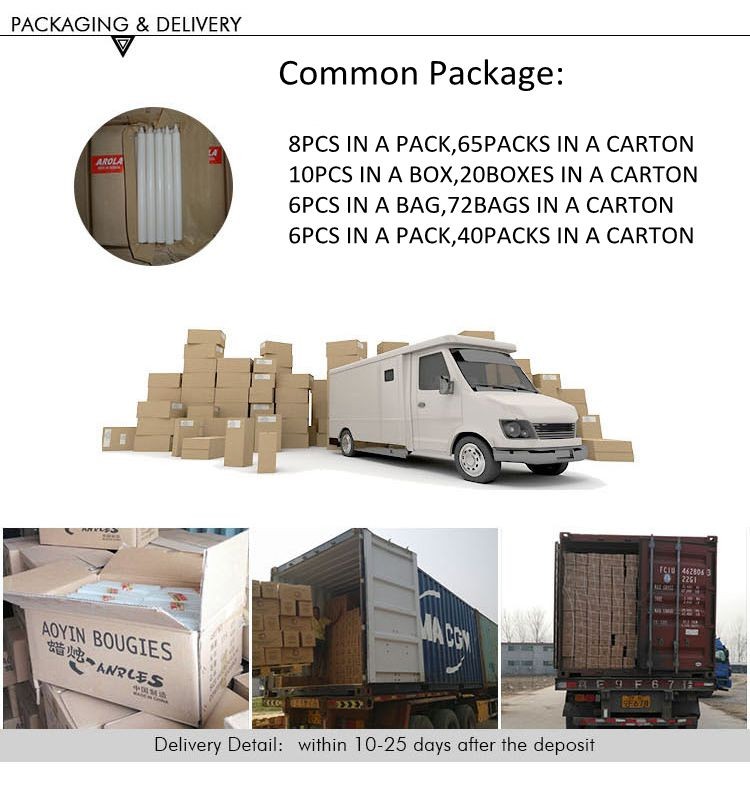 Company Information:
We- Aoyin Xingtang Candle Co.,Ltd.-are the manufacturer for candle in China.
Our main products including:White candles,Tealight candles,Pillar candles, Glass candles, Spiral candles,Art candles series
Total area:10,000 square meters
Total employees:300
Producy Capacity:30*20ft containers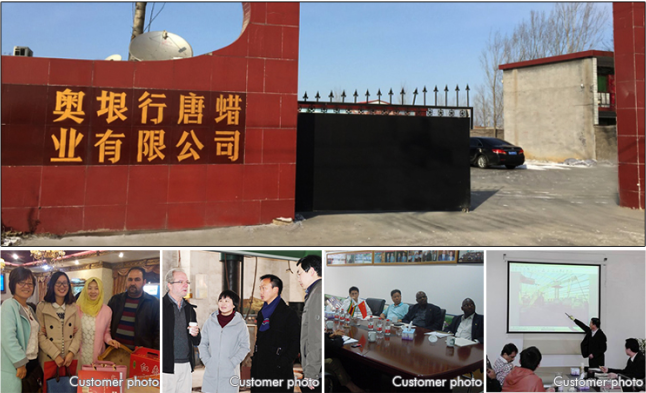 Fluted candle Certificate: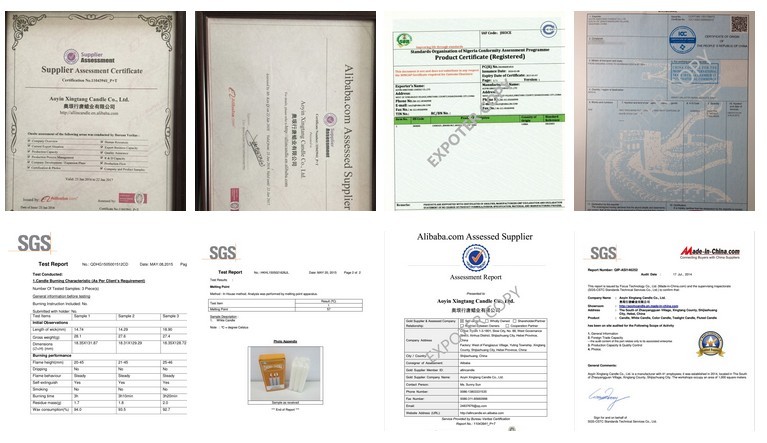 Buying Guide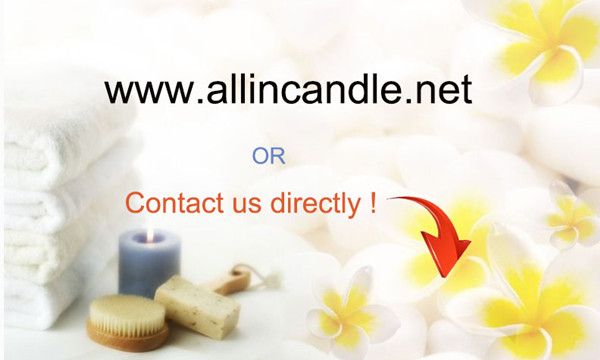 Contact: